We Are Your Affordably-Charging Possum Removal Team In Perth
Do you need a firm that charges you an affordable possum removal cost Perth? Count on Humane Possum Removal Perth. As we have been in the industry for years now, we have been the favourite of both new clients and previous clients. Hence, it is always that we charge our clients reasonably so that they can come back to us whenever possums enter their Perth property.
Even if we remove possums from roofs, garages or walls, we charge no hidden costs. Moreover, our skilled experts know how to deal with possums that put you in different difficult situations within a short time.
In addition to this, we assure you that every removal method we customise is of low possum removal cost in Perth. Thus, do check our company for professional possum removal from roof, backyard and more by contacting us now at 08 7184 0835.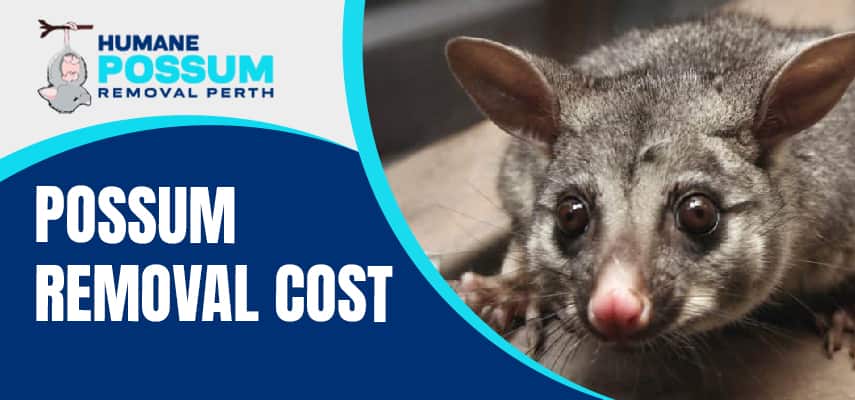 Only Top-Quality & Budget-Friendly Possum Removal Services Are Offered
Coming to the possum removal cost in Perth, our price is reasonable for all property that is ranging from $380 +GST with one year warranty. It is always us who stand out in the industry by providing top-quality services in budget-friendly deals. Thus, you can count on us for resolving your issues with possums at affordable prices and get back your peaceful days. So, if you want to make your property a possum-free area at a budget-friendly cost, you can directly book our experts.
For Single-Story Buildings*
Possum Removal – Single Storey Brick Building with Tiled Roof:
$280 + GST (12-Month Warranty)
$450 + GST (24-Month Warranty)
For Two Story Buildings*
Possum Removal – Two Storey Brick Building with Tiled Roof:
$320 + GST (12-Month Warranty)
$500 + GST (24-Month Warranty)
Eminent & Low-Costing Possum Removal Services
Dead Possum Removal Service
If you want a professional company to take responsibility for the dead person removal service at your Perth property, then contact our company. We get rid of dead possums from your home, including attics, roofs, ceilings, walls, holes, gaps and other foundation cracks. Hire us today!
Pre-Purchase Possum Inspection Service
Due to vacant spaces, possums occupy properties that have no humans in them. Thus, for this sole purpose, we are offering a pre-purchase possum inspection service. With this service, every area of your commercial and residential properties gets thoroughly inspected.
Backyard Possum Removal Service
One of the vital services we provide in Perth is backyard possum removal service despite the countless bookings we receive. And the possum removal cost Perth charges we take for this service is money-worth and goes easy on your pockets. Ping us immediately!
Under Deck Possum Removal Service
To do successful under-deck possum removal at your commercial property, we add wire mesh beneath the deck to block all access points. This is one of the ways that makes under-deck possum removal easier and the process gets completed in the shortest time.
Same-Day Possum Removal Service
To make sure we reach our clients' doors promptly and provide same-day possum removal service, we dispatch local experts from Perth. After we do same-day possum removal, we leave them within a 50 m radius of a property where we caught the possums.
Emergency Possum Removal Service
Did you suddenly find a possum roaming in your living room? Immediately contact for our emergency possum removal cost Perth service. Yes, this emergency does happen in Perth properties but we know what actions from our side can put a full stop to the threatening actions of possums.
Merits You Get Other Than Affordable Possum Removal Costs
On availing of our company and its services in Perth, you get many merits at affordable prices like the following ones:
Well-trained professionals come to your place to provide pocket-saving possum removal cost Perth services
Knowledgeable on how to remove all kinds of possums with state-of-the-art equipment
Our possum removal solutions are kid-friendly and pet-friendly
Upfront quotes in your budget
Friendly experts with a seamless experience in the field
Assurance with results because we use advanced technology to customise possum removal methods.
Money-Worth Possum Removal Services Of Different Types
Ringtail Possum Removal
Brushtail Possum Removal
Feathertail Possum Removal
Pygmy Possum Removal
Striped Possum Removal
Free-Tailed Possum Removal
Our Charges Are Pocket-Saving For All Kinds Of Services
Our reasonable possum removal cost Perth services are available for commercial premises in addition to residential spaces. The areas in both residential and commercial properties of Perth we cover are as listed below:
Lawns
Attics
Drain lines
Under decks
Garbage bins
Backyards
Tree holes
Foundational cracks
Garages and
Rock piles.
Program We Follow To Do Low-Cost Possum Removal
Arrange An Inspection
When you contact us for possum removal treatment for your Perth property, we arrange a thorough inspection of the area. During this step, after finding possums, we determine what species it is and their infestation level. After inspection, we also let you know the possible risk possums cause if a treatment isn't done.
Possum Removal Method Implementation
Based on the results of the possum inspection, we tailor a possum removal method to remove possums around your place. This removal method includes how much it takes to complete the process and the necessary consent. Once we start the possum removal method, we catch possums without harming them or stressing you. A few affordable methods are,
Cage traps
Wire meshes
Baiting
Use of repellents
Habitat management
Exclusion and others.
Ongoing Prevention
Most importantly, we also suggest useful ongoing prevention tips for controlling possums. And you can make this happen true if you follow the below prevention tips:
If you have trees, install plastic barriers around them
Seal away all the holes and gaps
For edible fruits and plants, do netting
Do not leave pet food in the open air.
Reasonable Possum Removal Methods By Our Experts
To keep possums safe while removing them from your Perth property, we execute only those methods that are possum-friendly. Also, the methods we execute are considered to be safe not just for possums but also for your family and property. Some of our best methods are here.
Use Of Possum Attractants- Removal of possums is easy when we attract them with food sources, water sources and other potential attractions. The food sources we use are food-bearing plants, crops, and possum-loving vegetables.
Secure Entry Points- As soon as we find possums, we inspect for all the access points to seal them away. These access points we secure are likely to be broken vents, chimneys, holes, foundation cracks and other gaps.
Install Special Fencing- To not give awesome any chance of climbing into your property, the installed special fencing. This fencing will be at least 4 feet high with its top facing outward.
Caging- If you find that possums are somehow finding their way into your homes, then contact us to catch them using live traps. We make the traps in such a way that possums will have no other way to escape other than being caught by us.
Install Nesting Boxes- To provide possums with an alternative home, we install nesting boxes on your property. This way possums get a tight and secure place to live and don't enter your property and threaten you anymore.
Take A Moment To Look At The Australian Possum Removal & Catching Law
According to The National Parks and Wildlife Act 1974, it is against the law that no company with accreditation or a person without a licence can do possum removal. However, if any of this or both of these happens, then legal actions will be taken and a penalty will also be given. Moreover, according to this act, one needs to relocate possums only within a 50 m radius of commercial or residential property.
Any Day & Any Hour Of The Year, Our Bookings Are Available
We are fortunately a locally-based operating company in Perth and hence we take your bookings every day of the week and any hour of the year. With our possum removal cost Perth team in and around Perth, service booking becomes easier and that too at a low cost. So, keep staying in touch with us to get well-timed possum removal in and around Perth.
FAQs
Which areas in Perth do you provide your possum removal services? 
Our low possum removal cost Perth services are available in different areas such as: 
– Helena Valley 
– Kiara 
– Dayton 
– Shelley 
– Victoria park and so on. 
What do you do if you find possum babies if you find them during the inspection? 
After we do a thorough possum inspection in your place, if you find possum babies instead of adults, we take an insulated box and capture them. Later, we safely leave them in wildlife with terrestrial life that is 15 m within your property. So, do get in touch with us for immediate possum removal. 
Do I need to check credentials before getting in touch with a company that provides professional possum removal services? 
Yes, it is the safest option to check for credentials before hiring a company for professional possum removal services. And those credentials are accreditation, licensed experts, insured policy, experience, skills, talent in customising removal services, etc.